The NFL is starting to make sense. Well, not the AFC and half of the NFC, but the other teams. I was 10-3 straight up last week and 8-4-1 against the spread. I'm seeing it all like The Matrix now. The part where I can battle Elrond one-handed while wondering if I'll make any more Bill & Ted movies.
At least the Rams prepared for special teams' fakes from a desperate, massive underdog with nothing to lose. Oh, wait. The Lions literally threw everything at them, including fart spray, and the Rams kept falling for it.
And the Patriots sent a letter asking the NFL if they can play the Jets eight times a year instead of two. But every team quickly made the same request. Except the Titans, who can only beat anybody else. The Jets are green, like kryptonite, or movie vomit, so that makes sense.
On to Week Eight!
PACKERS (+6.5) AT CARDINALS
The Packers continue to get the job done, but never convincingly enough. Like if Aaron Rodgers tried to host Jeopardy or pretend he likes girls or something.
The Cardinals thumped the Texans, so, yeah, big challenge there.
This should be a fun game. You think Green Bay losing Davante Adams to the reserve/injured/covid/apocalypse list is a fatal blow to the Pack, but that's how they get you. Don't fall for the banana in the tailpipe.
I'm not saying you need an anti-banana disguise as good as this one. But I'm not not saying it either.
Packers are the pick. You'll see, banana-nose.
---
BENGALS (-10) AT JETS
I'm almost ready to believe in this Bengals team. As a regular-season NFL football team I mean. Let's not get carried away. This is a date, not marry situation. So kind of hotter in a way.
The Jets just added clickbait-pedigreed Joe Flacco ("Jets add Super-Bowl winning QB to roster"). It's like when you see "Superman actor dies" and it turns out to be the guy in the crowd whose one line is, "Look, it's a bird!"
I mean, you'll still miss all the good times you had together though.
Gotta go Bengals here. Like chili on spaghetti, it just feels sort of not really right.
---
TITANS (-1) AT COLTS
The Titans only two losses are to the undefeated Cardinals and the defeated-by-everyone-except-the-Titans Jets. Because that's how you become the model of consistency. Take that, Belichick!
They also bent Patrick Mahomes into a gooey soft pretzel shape.
As for the Colts… I like where this is going, I just don't don't wanna go there yet. It's the sex without commitment phase. And no girl ever complains about that. Not in my hallucinations at least.
Titans are the pick. The Colts are already too clingy.
---
RAMS (-14.5) AT TEXANS
The Rams were so unprepared for Detroit's chicanery they almost lost. To the Lions. They would have too, but as I mentioned earlier, it was the Lions. The football equivalent of Wile E. Coyote. Oh, what, you thought this is the time the coyote finally gets the meep-meep? Nah.
The Texans put up 5 points agains Arizona. Yeah. That's one of those scores that makes you do the sad math to figure out what happened.
I'm gonna go out on a limb and say the Rams will be ready for a trick play this time. You know the old saying, fool me once shame on you. Fool me 47 times, I'm a Rams special teams coach.
Rams here. But 4th down may give your ulcer an ulcer. I named mine "Lucky". "Gurgle Blood" was already taken by Andy Reid's wardrobe assistant.
---
STEELERS (+3.5) AT BROWNS
The Steelers are a Halloween ghost. They still look like themselves but they're dead. They've been dead the whole time.
The Browns really struggle with PTSD from the Steelers though. And little brother syndrome. Baker Mayfield, Case Keenum, probably won't matter. You think Cleveland will win just because they're better on paper? Pittsburgh is about to shove some Halloween candy right up their Browns.
Steelers here. If you have an older sibling you get it. PTSD I mean.
---
EAGLES (-3.5) AT LIONS
Detroit doesn't have many wins. Or any. But it is the city where RoboCop took place. So, there's that.
Have you ever tried to get skunk spray off a dog? The Lions got some of that stuff on them a very long time ago and it still won't come off. How much tomato juice would you need for an entire team bath? That's a trick question. There are no fruits or vegetables in Michigan.
They might not lose all 17. And they've covered more than once. And the Eagles are merrily forging their own stink trail.
Still. I go Philly here. The lesser of two stinks.
49ERS (-3.5) AT BEARS
Game of the week! Oh, sorry, I meant that in an "oops, we just had sex and I called you Beth instead of Gretchen" kind of way.
The Niners and Bears are both Gretchen. And you weren't even close.
And if you watch this game you won't respect yourself in the morning. You're still gonna watch, aren't you? You harlot. Call me?
The Bears will be missing their horrible head coach, while the 49ers will have their amazing head coach who has a horrible record. It should even out.
Take the Bears. Then take a cold shower.
---
PANTHERS (+3) AT FALCONS
Remember all that 3-0 Panther excitement? Of course you don't, no one does. They've got Stephon Gilmore coming though. He thought they were a contender when they traded for him a few weeks ago.
The Falcons meanwhile won a game at the end after blowing a huge lead. That had to feel good on some level. Therapy must be going well.
Come on though, it was the Dolphins. I'm going Carolina here.
---
DOLPHINS (+13.5) AT BILLS
Speaking of the Dolphins, they must be excited to see the Bills again after that close shave in Miami. That 35-0 score was misleading. It suggests the Bills stopped after realizing they were just beating Dolphin uniforms stuffed with hay. Actual dolphins could've put up some resistance.
Oh, and Buffalo is coming off a tough loss to the Titans, who were coming off a tough loss to the Jets. None of that is good news for Miami, coming off a tough loss to the Falcons.
Tough spot for the Fins, who are an ill-timed New England fumble away from being the Lions.
So I'm going Miami here! Just kidding. My bills are on the Bills. Trust the process!
---
PATRIOTS (+5.5) AT CHARGERS
New England should have saved some of those 54 points they hung on the Jets for this game. They'll need some with that Swiss cheese defense of theirs. Not to be confused with their QB, Kraft Mac 'n Cheese Jones (the good kind of cheese).
I know the Chargers just got humbled by the Ravens. This is even more humbling now since the Ravens just got humbled by the Bengals. Humble rolls downhill.
But this is a bad spot for the Pats, who have learned a thing or two about humble pie from Belichick (or "Giggles" as he's known around the league).
Chargers are the pick. Herbert needs to lift this team just high enough to disappoint fans.
---
JAGUARS (+3.5) AT SEAHAWKS
This ain't London, Jags. Closer to Japan. At least the NFL was kind with the travel schedule. You'll be so jet-lagged it'll feel like you lost this game in the past, present, and future.
Yes, I know the Seahawks are terrible without Russell Wilson. And with Pete Carroll. But don't overthink this.
How do I know?
Callback gif!
Seattle. And yes, I am The One! Because an oracle gave me a chocolate chip cookie and said I wasn't. It's that easy.
---
FOOTBALL TEAM (+3) AT BRONCOS
If you watch this game you also subscribe to every streaming service, including Discovery+ (you know, for even more nature and cooking shows). These teams are both so bad they don't deserve to be talked about in football terms. I'll refer to them as the Wizards and Nuggets.
Speaking of wizards, I'll employ one just in case you try to watch this game. You'll thank me later.
Fun fact: Gandalf gave this same warning to Pete Carroll right before the Malcolm Butler pick. He didn't listen either.
Take the halfway decent football team here. And by that I mean the Nuggets.
---
BUCCANEERS (-5) AT SAINTS
Yeah, I think I'm gonna pass on the Saints. So will Tom Brady. Gandalf won't like it, but he died in that scene so what does he know?
I told you Week One to bet on Brady's Bucs all season. It's a winning strategy overall. Like ordering pizza. Or pretending not to hear your wife when she tells you not to order pizza.
Tampa Bay is the pick.
Brady loves Halloween. And he's about as easy to kill as Michael Myers. You know you're in for a long day as a defense when he comes out of the tunnel looking like this:
---
COWBOYS (-2.5) AT VIKINGS
Just say no to Kirk Cousins. If you can say no to crack cocaine, you can say no to Kirk Cousins.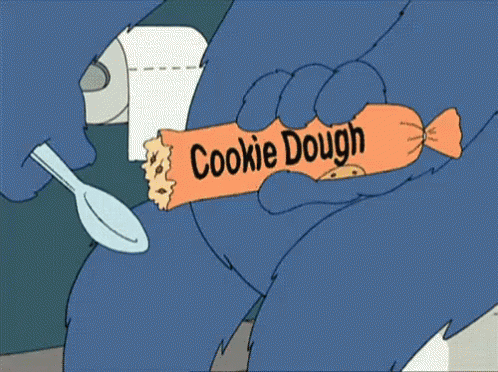 I know, I know, it's hard. I gave in to the weakness once this year and hated myself for it. I vowed never to fall victim to his occasionally above-average charms again. He's like that dead actor you still can't get over from Superman.
The Cowboys need some humble pie in the biggest way, but I don't trust the Vikings to serve it up.
Dallas here. Now where's the cookie dough?
---
GIANTS (+10) AT CHIEFS
Sad that you have to think about this one, huh? Can't even trust the Chiefs at home to properly dismantle the Giants. Can't even trust Pretzel Mahomes anymore. Instead of being terrified of him, the Giants' defense is like:
If KC is going to turn things around, this would be a good time. The Giants are banged up and, oh yeah, terrible. If the Chiefs don't make a statement soon, they'll be answering questions instead. Questions like, is someone farting in your helmets before games?
I'll go with the Chiefs, even though I really want someone to ask that question.
---
And that's it for Week Eight!
As always, thanks for playing!